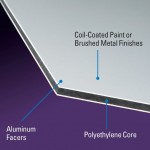 Dibond is an aluminum composite material (ACM) made of two pre-painted sheets of .012″ aluminum with a solid polyethylene core.
Flattest panel on the market
Superior surface protects expensive digital and screenprinted graphics
Provides excellent durability in outdoor applications
Pearlescent features a unique metallic surface finish, similar to silver halide metallic photo papers. Grace Pearlescent offers exceptional image clarity, and brillant color reproduction with a high gloss metallic finish.